No. 3: Chromeo for the Vinh
Happy Wednesday everyone! This blog is going to be not only one but TWO amazing things. The former thing being an amazing completely underrated musical group and the latter being an amazing choreographer making a big name for himself.
Chromeo
I first heard this group a few years ago when they came out with their single "Fancy Footwork" and got excited about them but then didn't hear anything from them for awhile. Eventually they debuted their new album White Women spring of last year and it COMPLETELY flew under the radar besides their breakout single "Jealous" but if you are interested in music that makes you want to get up and dance and makes your speakers bleed funk juice ("funk juice" not being a gross term but rather synonym for pure musical awesomeness) then Chromeo is the group for you...also their album cover is amazing.
Their tracks range from nostalgic 80's vibes like "Old 45's" to throw back funk style tracks like "Come Alive", "Sexy Socialite", & "Fall Back to You" featuring Dave 1's vocals & P-thugg on the talk box (quite possibly the greatest sound ever if you're influenced by poppers such as myself) making us reminisce the great talk box stylings of Roger Troutman & Zapp. I found this great BTS video of their new album and thought their process was super interesting.
Is there a Ian Eastwood x Chromeo choreography cover in the future? I'm very sure of it...just not sure when its coming haha. They're definitely on my list of artists I want to work with as it seems they love dancing in all their videos. In the meantime keep your eye out for the film "Breaking Through" coming out this year...I choreographed the film and it features a Chuck Inglish x Chromeo song called "Legs" (Sorry for the plug -GET BACK TO THE POINT IAN.). The album opens with their biggest single "Jealous" which I see as the perfect pop/funk blend. (This is me seamlessly bringing you into my next section of the blog.)
Vinh
I've been a fan now of Vinh Nguyen for years, I first got introduced to him when another favorite choreographer of mine Keone Madrid would feature him in videos as a dancer - eventually I found his choreography and became an instant fan. Over the years we have been able to hang out a bit and teach a few times on the road together and I have to say, not only is he super talented but an incredibly humble artist that has great energy and not a mean or selfish bone in his body.
When I saw him post an instagram clip of his choreo to "Jealous" I was both super pumped to see the rest and (no I'm not going to say 'Jealous') pissed 'cause I wanted to do the song and now knew I couldn't haha.
Of course when Vinh finally posted the video I was most definitely not disappointed, in fact the reason I keep going on about it is because I don't very often find myself repeat-viewing dance videos and I know for a fact I've returned to the video at least 4 or 5 times at this point. The video is great on all bases; it is shot really well by the Kinjaz team leaving me completely impressed, and it features some really great dancers: Pat Cruz, Anthony Lee, Mike Song, Ben Chung, Jawn Ha, Mike Fal etc., and the story wasn't trying to be too artsy or overbearing it was just plain old FUN.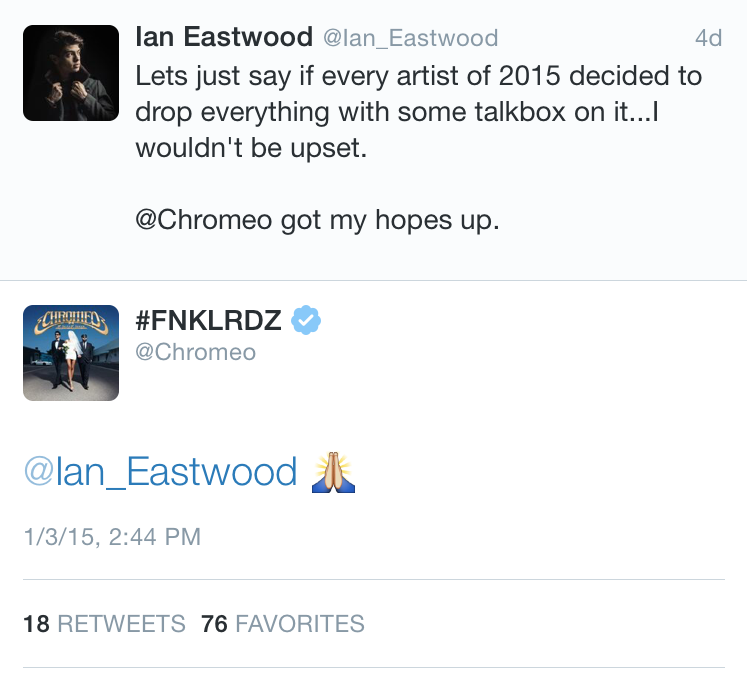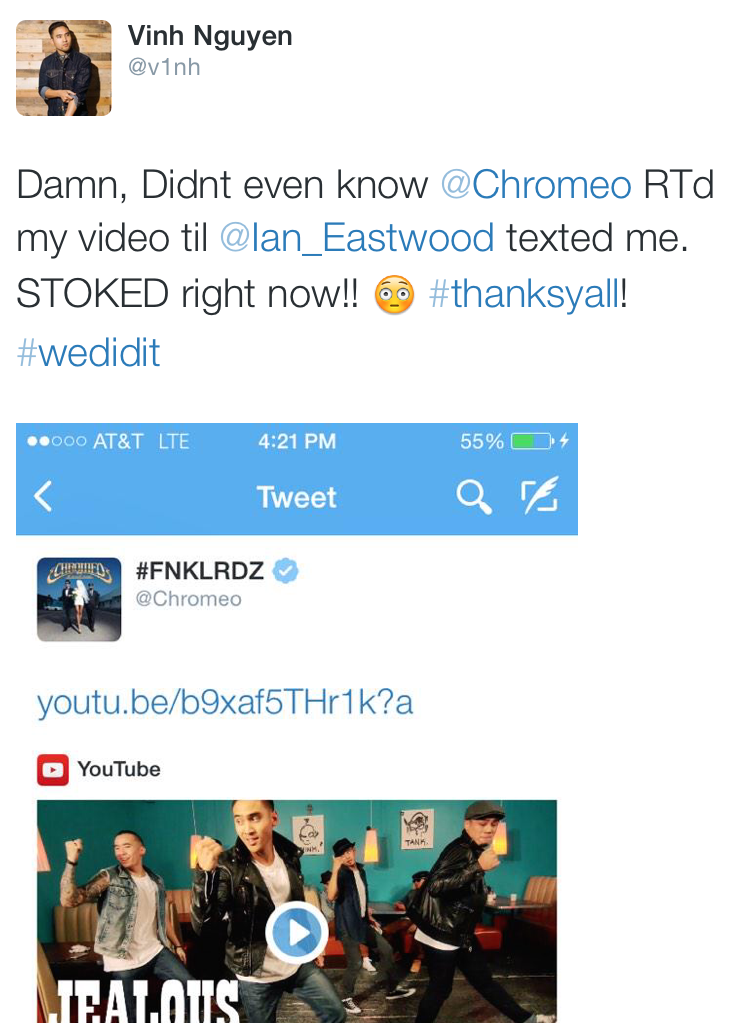 Interestingly enough, I started re-listening to the album after watching Vinh's video and that immediately lead to this twitter exchange:
And upon their reply, I decided to check if they had posted anything interesting lately and discovered they posted Vinh's video! Which lead to this:
In conclusion... (yes I'm ending this blog post like a 6th grader) Chromeo is awesome. Vinh is awesome. Add them to your list of awesome things to appreciate.
Vinh : @v1nh - youtube.com/v1nh
Chromeo: @chromeo / www.chromeo.net